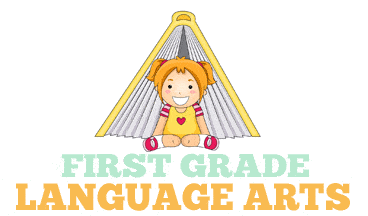 Our first grade language games continue to build on early reading abilities while focusing on adding new concepts and skills.  Children learn about opposites, compound words, nouns and verbs, contractions, alphabetical order and more.
Alphabots: Alphabetical Order Game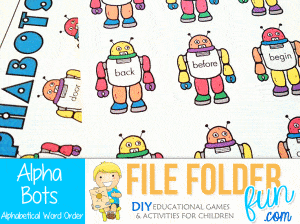 This is a game for children who are working on learning alphabetical order.  There are over 70 robots, however we recommend starting out with small batches and slowly adding in more as children show mastery.  The alphabet is listed at the bottom for reference.
---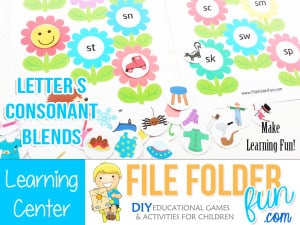 Letter S Consonant Blends Game
This is a simple game for children who are ready to identify beginning consonant blends.  Featuring seven different letter s blends and 28 different s-blend pictures, children sort the pictures by carefully saying and listening to the beginning sound.  Recommend for late KG, early 1st grades.
---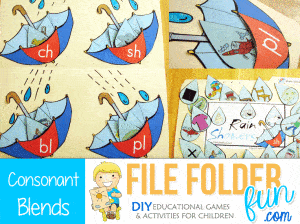 Rain Showers: Consonant Blends Game
This is a file folder game for children working on consonant blends and diagrah recognition.  Each umbrella holds ch-, sh-, bl-, and pl- words.  The raindrops have pictures of various objects  for children to sound out.
---
This is a learning center for children workin on early reading and spelling skills.  Children match the words on the tops of the snowmen to the bottom of their bodies to form a compound word.  There are three sheets for this game so it best fits on two file folders.
---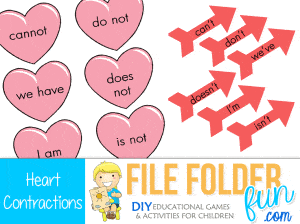 Heart Contractions File Folder Game
This is a contraction file folder game where children match the arrows to the correct word on the heart.  There are 16 different contractions with small visual (color) clues for beginners.
---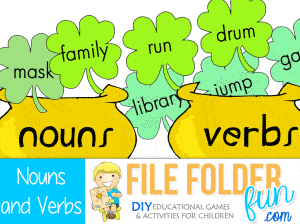 Shamrock Nouns & Verbs File Folder Game
This game is a fun way for children to learn about nouns and verbs.  Each shamrock features a words for children to sort into the correct category.
---
This is a game about opposites!  Children read the word on the picnic basket, then find the correct opposite on the matching plate.  This game is simple and fun for new readers.
---
This is a sorting game for children learning about words.  Each owl features a word that is either a Who, a What, a Where or a When and children must place the owls into the correct nest.
---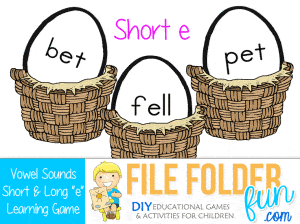 Short E Long E Vowel Sounds Game
This is a game for children learning to listen to the different sounds the letter "e" can make.  Children read the words written across each egg, and decided if it makes a short-e or a long-e sound and place it into the correct basket.
---
Related Resources: