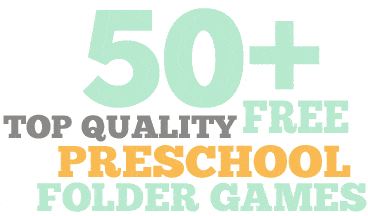 Preschool is a great time to get children started with fun learning experiences.  Even at an early age children can learn all about color identification, number recognition, sequencing, letter sounds and more. We suggest using hands on learning games with active children who find themselves bored or frustrated with traditional worksheets or lessons…..making our games a great resource for preschoolers.
Below, we've organized our free preschool file folder games by subject making it easy to find exactly what you need for your students.  If  you're looking for thematic resources please search our site by subejct to find what you need.  Assembly for most of the games is self explanatory, however we've included short instructions and photo examples when necessary.
---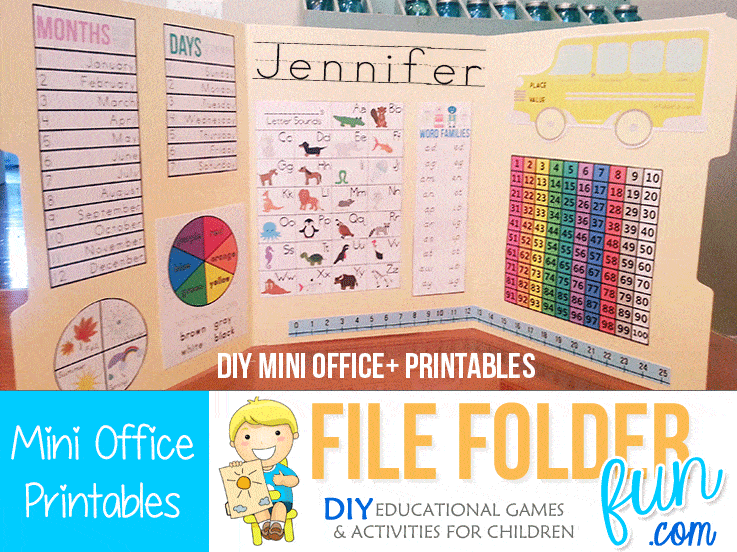 Preschool & Kindergarten Mini Office 
A Mini Office is basically a custom built learning resource for your student.  The goal of a mini-office is to serve as a self led reference chart for children, freeing up time for teacher to work with other students and encouraging children to find answers to their own questions.  The benefit of making a mini office is also in the size and the minimal supply list.   All you'll need is a couple of file folders, scissors, glue, and your printable pages.
---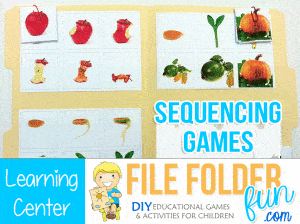 Preschool Sequencing Games
Our Sequencing games are printable games where children put the cards in the proper order or sequence. This order can be based on Size, Time, Shape and more.  Many of our sequencing printables can be combined to fit inside a file folder to create a complete learning center.
---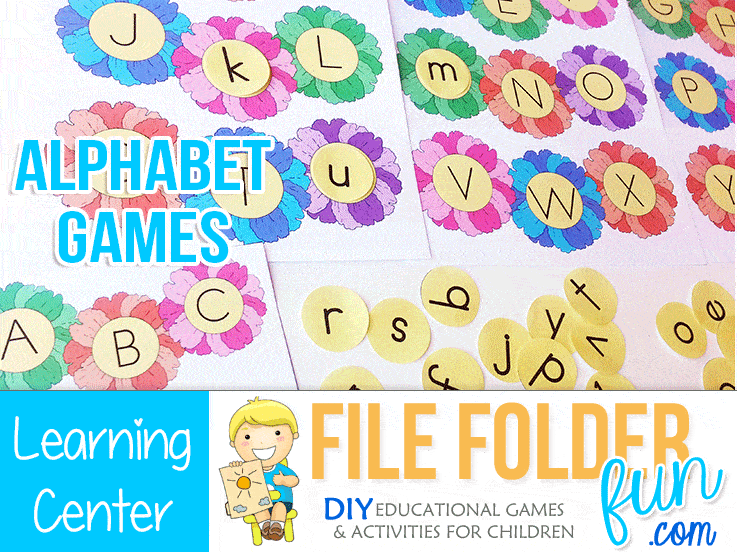 Preschool Alphabet Games
Alphabet games are great for children who are learning all about their ABC's, including upper and lower case lettersLetter identification and letter sound recognition is an important step on the path to reading.  Take every opportunity you can to point out letters and practice their sounds with children, not just in the classroom but at home and on the road as well.  Children will soon be able to pick out letters from a sign, and identify beginning sounds with ease. 
---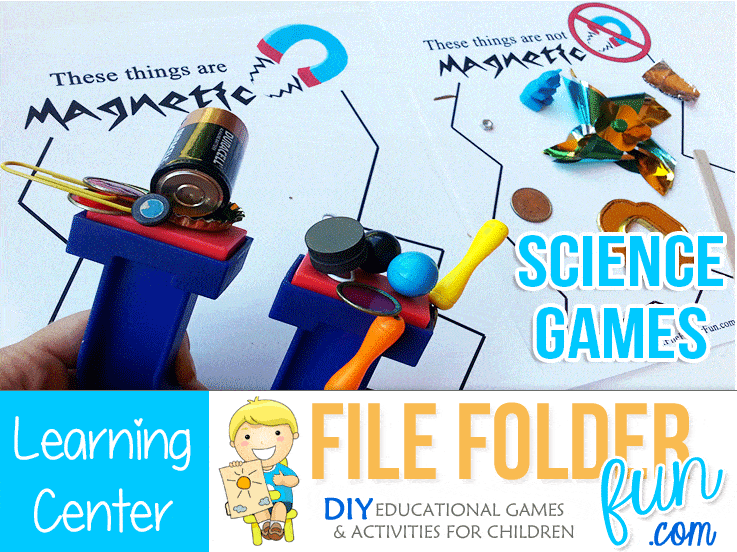 Preschool Science Games
Learning centers and file folder games make wonderful follow up activities to science experiments and explorations in your classroom.  Our games are designed to be used alone or alongside your Kindergarten science curriculum. At this age children learn so much from hands on activity, and we highly recommend stocking your classroom with basic kindergarten science resources. 
---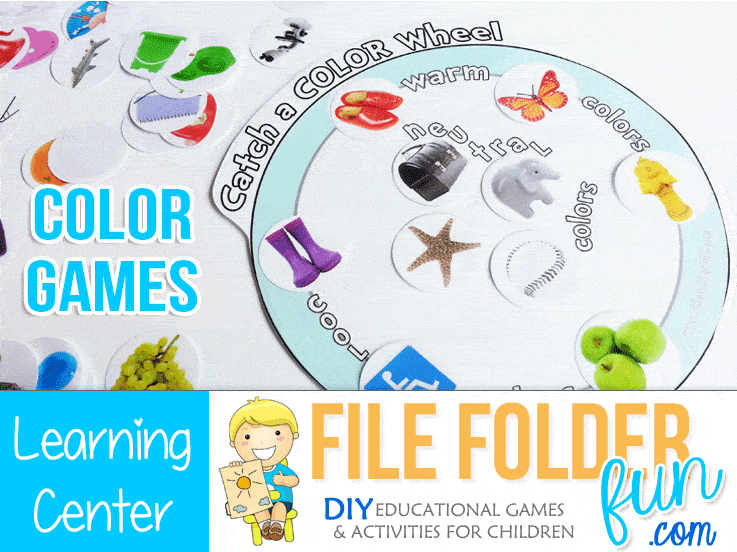 Preschool Color Matching Games
Color matching is a great start for children learning to distinguish and identify differences between objects. One of the most obvious differences an object can have is shape and color.  We've designed a collection of fun and thematic games designed too build visual discrimination skills in your child.  These leveled games start with single color discrimination and move to multiple colors, then patterns and then similar object different color hues.
---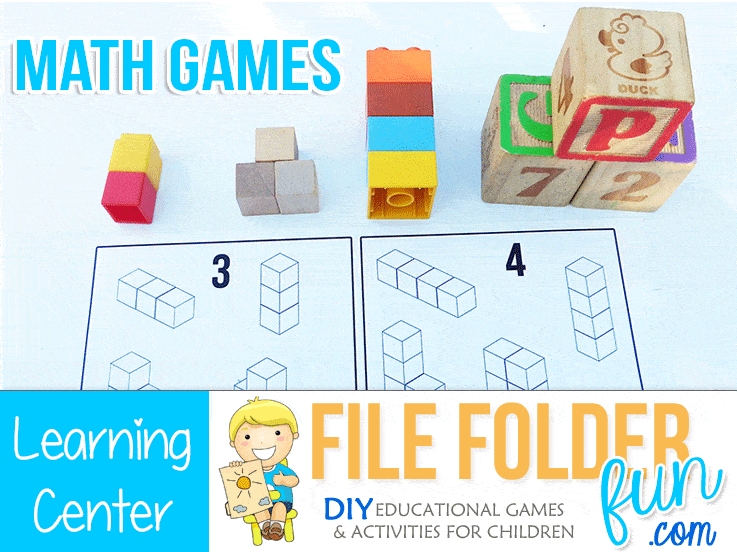 Preschool Number Games
Number games are a great way for children to work on early math skills like number recognition, counting, shapes and early addition.
---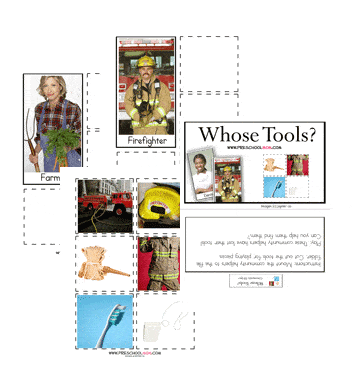 30+ Free Thematic Preschool Folder Games
Free preschool learning centers and games for your favorite preschool themes.  You'll find games for Animals, Community Helpers, Dinosaurs, Australia, Weather, Math, Science, Seasons, Oceans, Fall Leaves, Christmas and more!  Additionally, you'll find thematic coloring pages, worksheets, activities, art projects, printables and resources to build your own custom unit for your children.
---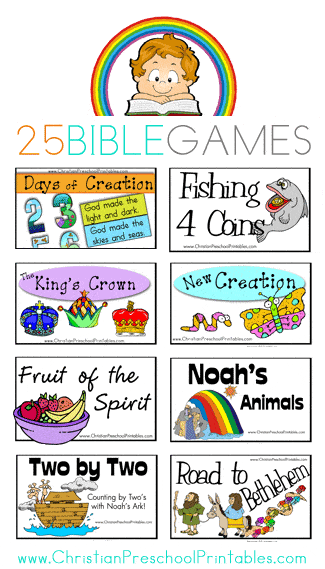 Free christian preschool file folder games for children's ministry.  Use these games in your personal classroom, outreach missions, vbs, or in your own homeschool.  Find games for learning the days of Creation, Adam and eve, Fruits of the spirit, Noah's ark and more!
---