We have a nice selection of free apple themed printables and games. These learning centers are print and play meaning they are ready to go from your printer into your classroom with minimal assembly.
Apple Life Cycle Photo Cards
Apple Sequencing Cards
Apple Color Matching Game
Apple Size Sequencing
Adam's Apples
Apple Circle Counters
Apple Life Cycle Photo Cards
This is a set of free high quality Apple Life Cycle sequencing cards. These can be used with our corresponding sequencing chart and include a photo of a bee pollinating the apple blossom.
Apple Counters
This is a set of free printable Apple counters to be used with early math games. This set is Punch and Play using a 1.5inch circle punch, and includes red apples, green apples, yellow apples and green worms. Younger children can make patterns for sequencing games
Apple Photo Sequencing Cards
These apple cards show the progression of "bite" from a whole apple down to the core. Printing one page gives you two sets of six cards. We recommend leaving one set intact and cutting the addtional set out for playing pieces. Children can then learn the process by matching the cards first, then building their own sequence.
Apple Coloring Matching Printables
These printable apples are perfect for color matching in the Fall! Featuring 12 differently hued apples, children can sort them by carefully looking at the different colors. This game is great for children who have mastered the basic rainbow sorting and are ready to move on to more difficult classifications.
Apple Size Sequencing Game
This is a game for children learning about order and size. Children play by arranging the apples in order from smallest to largest or largest to smallest.
Adam's Apples Bible File Folder Game
This is a two playergame, so you'll want to print two gameboards,and if you like two sets of number cards as well.them on their tree. Once they are placed they cannotbe moved. The object is to place them in such a waythat you make the biggest number possible. Once allthe apples are placed, the winner is the one with the largest number
---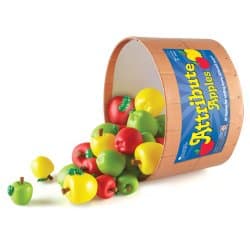 Attribute Apples for Sorting & Classifying
by Learning Resources
Sort and classify apples by 5 attributes including size color and physical features (stem, leaf, worm)

Includes 27 apples and Activity Guide featuring suggested uses of Venn Diagrams for higher order thinking skills

Largest apple measures 1.75″ in diameter
---