Game Play: Use the shapes to build your way through the alphabet.
Game Assembly:  You will need to print at least two copies of the page with the curved shapes (Letter O will require two large curves).  Laminate for durability then store in a file folder or ziplock envelope.
Expansion Ideas: Use the shapes to build entire words for extra spelling practice.  Ask children to make a house or a flower, a ladder or a butterfly, they will have lots of fun with these shapes.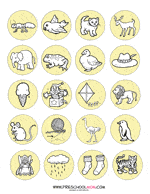 Skill Building Links: