Game Play: Turn the letter circles upside down.  Choose a lowercase letter from the pile  and find the correct uppercase match on the game board.
Game Assembly:  This game requires two file folder game glued back to back.  You'll need to cut the tabs off of both ends so that the game board folds correctly.  Use a circle punch to easily cut out the playing pieces.  Glue title page to outside so that you form a pocket.  Glue Tab Label to folder.
Expansion Ideas: Use the gameboard like an actual gameboard.  Children can "hop" their way through the alphabet by rolling die landing on an uppercase letter then finding the correct lowercase match from the pile.  If they find the correct letter they get to stay in their spot.  If they don't they have to hop back to where they were. First one to go through the entire alphabet wins!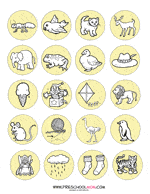 Skill Building Links: