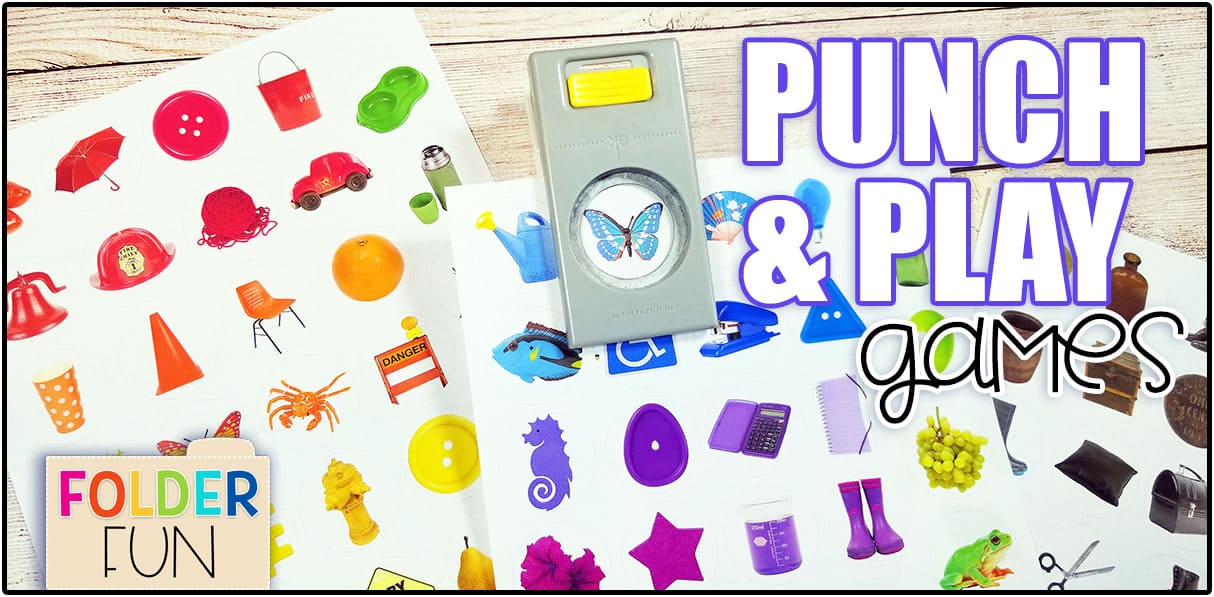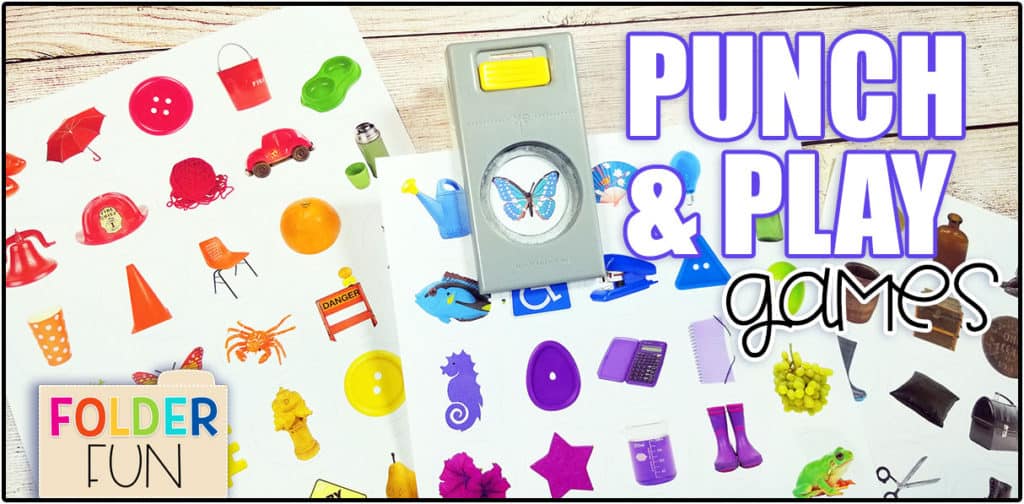 You are going to LOVE our exclusive Punch & Play Games! In a moment of genius, we realized that these simple circle punch tools, which are normally used for paper arts, like scrapbooking, can also be used to quickly cut out game pieces for file folder games. As such, our Punch & Play games are super easy to assemble, and the prep-time is cut in half!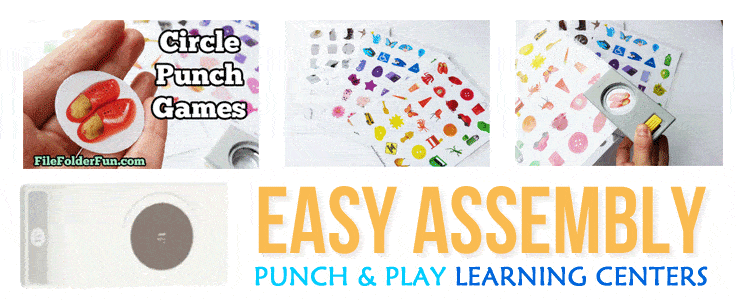 We've designed all of the games in this section so that the playing pieces can be punched out with a 1 1/2 inch circle punch. Our games are printed on regular copy paper then laminated prior to punching. We own and recommend this specific circle punch from EK tools.
Alphabet Uppercase/Lowercase Letter Matching
This is an easy assembly matching game for children to practice upper and lowercase letter recognition. Children then pick a lowercase letter and find the matching uppercase letter on the board.
Beginning Blends Game: Letter S
This is a simple game for children who are ready to identify beginning consonant blends. Featuring seven different letter s blends and 28 different s-blend pictures, children sort the pictures by beginning sound.
Beginning Blends Game: Letter L
This game features 24 different picture cards and 6 beginning blends: fl, pl, gl, cl, sl, and bl. Children choose a card and place it on their gameboard. First one to fill up their flower wins!
Catch a Rainbow Game
This is an adorable color matching game for young children. Each child receives a "cloud" they will use to catch a rainbow of colors. First one to catch a rainbow wins!
Monster Make 10
This is a free printable Monster themed file folder game for children who are working on number bonds that add up to ten. Children should have a good concept of number values prior to playing this game.
Recycle Sorting Game
Time to sort the recycling! Game pieces are placed upside down in the middle. On your turn draw a card and place it in the correct spot on your game board. If your bin is full, you must return the card to the pile and your turn is over. First one to fill their board wins!!
Printable Color Wheel Game
After children have a good grasp on their colors, this is a great game to begin to introduce the color wheel. Children take turns drawing from the pile and placing their circle in the appropriate space; warm colors, cool colors or neutral colors.
Cupcake Counting Game
Children choose a number card, place it on the cupcake then count out that many cherries to put on top. As simple as this game is, my children really love it. There is just something about big pink cupcakes that makes everyone happy, even my little boys!
Cupcake Math Game: Addition & Subtraction
Another game that plays our our taste buds, this version is for older children who are ready to begin early math sentences. Children choose a math sentence, place it on the cupcake then solve the problem visually using the cherries.
Apple Counters
This is a set of free printable Apple counters to be used with early math games. This set is Punch and Play using a 1.5inch circle punch, and includes red apples, green apples, yellow apples and green worms. Younger children can make patterns for sequencing games
Ice Cream Scoops Game
Children work on placing the ice cream cones in proper order from one to ten by counting the amount of scoops on top. Number Circles are provided and can be used as reference guides or "cherries" on top.