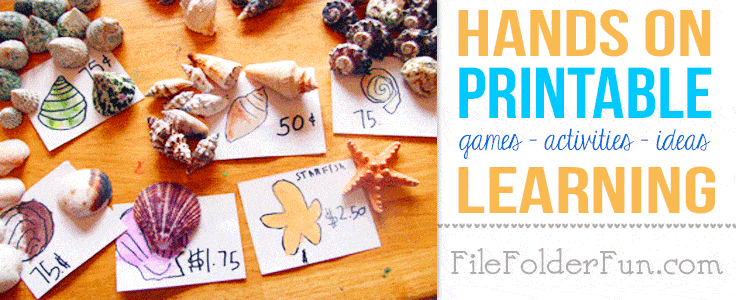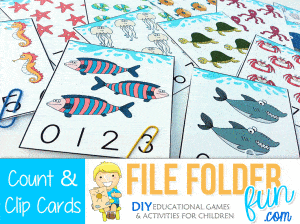 Count and Clip Cards
Count and Clip cards are a great way for children to work on counting, number recognition and small motor skills.  Children count the number of ocean animals on the cards, find the correct number on the bottom and then clip it with a paperclip or a clothespin.  Because of the way the game is played we recommend printing on cardstock and laminating for durability.
---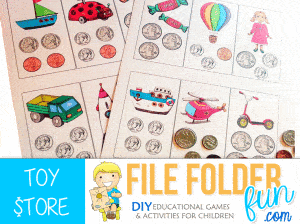 Toy Store Learning Center
These printable cards are perfect for pretend play. While you can also use them as flashcards, or matching games my children seem to enjoy them most when we use them to set up a "Store."  Usually we choose one person to be the store owner and then divide some coins between the rest of the children.
---
This is a simple learning center you can set up for children learning their numbers.  Each number card features different ways to build and arrange square blocks to created a shape.  We recommend using these cards with wooden blocks however, you can use Unifex cubes, legos, alphabet blocks or whatever you have on hand they just might not line up appropriately.
---
Tangrams are a great way for young children to build visual and spatial skills.  Children arrange the shapes to form pictures. This is a set of printable tangrams with coordinating picture cards.  There are two versions of the cards available one with outlines and one with the full shadow.  We strongly suggest you laminate these cards and carefully cut them out in the middle of the separating black lines.
---
Sorting and classifying objects is fun for children of all ages.  Use these printable sea shell sorting mats to provide children an opportunity to get up close and personal with a variety of different shells.  You might take it one step further and have children open up their or Sea Shell Store.
---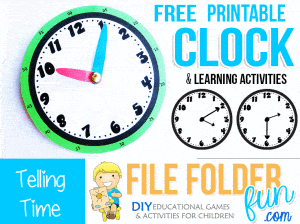 Printable Clock & Flashcard Game
Our free printable clock is a handy tool when teaching children how to tell time.  This clock features moveable hands down to the minute with an outer ring that show children the five minute intervals.  This clock is small enough to fit inside a file folder or mini office, and when combined with the flashcards can make a fantastic game.
---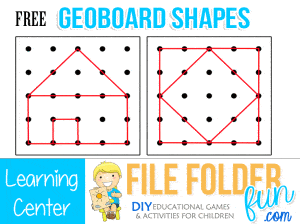 Geoboards are an amazing classroom reasource as they keep little hands and minds busy learning about shapes, geometric patterns, and visual discrimination.  While these are wonderful for free time activity, they can be used for structured learning as well.  Our geoboard printables encourage children to replicate the picture they see on the cards, with rubberbands on their geoboard.  If you're making your own geoboard, these are set for a 5 x 5 grid.
---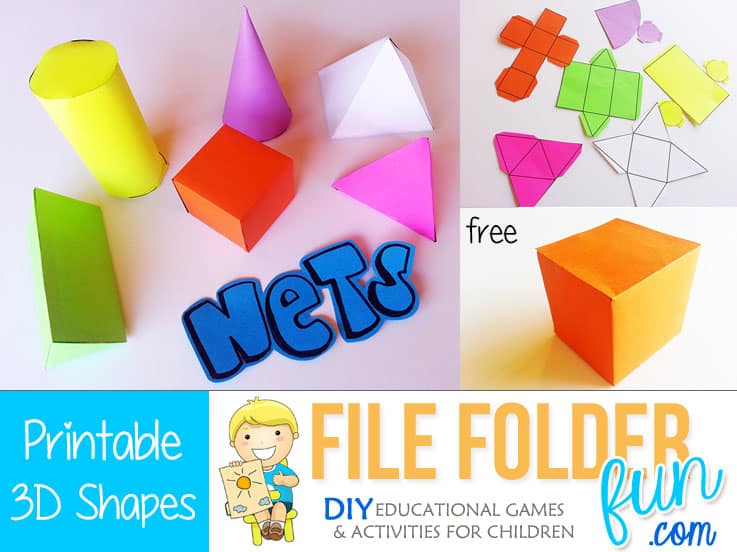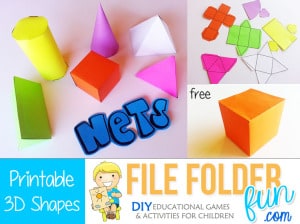 Printable 3D Shapes
Use these free printable nets to build and create 3D shapes.  Children can make a Cube, Cylinder, Cone, Pyramid and more.  This is a great way to add a little hands on fun to your math curriculum.  Print on cardstock and laminate if using for a classroom set.  (Tape the edges) If using for one child, use simple colored paper and glue stick.
---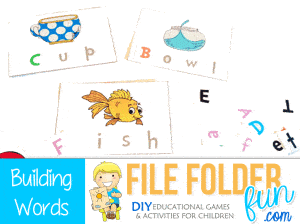 Building Words with Letter Tiles
These silly seusical printables are a great way to begin building words.  We provide you with printable letter tiles, but if you have your own set of plastic letters this is a great opportunity to use them. Children work on simple three and four letter words.
---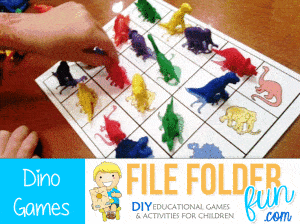 We have a great selection of dinosaur printables you can use with your dinosaur counters.  This set of counters has been one of my favorites.  Use them for colors, patterns, sequencing, adding, subtracting, classifying, and more.
---
These printable pages are perfect for fine motor skills.  Using Bingo Markers (not Bingo Daubers) children place the m on the grid to make their own pictures or patterns.  We have printable shapes and sequencing pages you can use for a more structured learning center.
---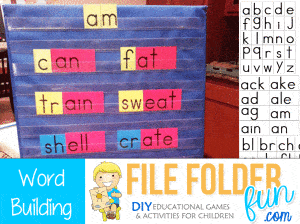 Word Building Pocket Chart Game
Pocket Charts are wonderful teaching tools for your classroom.  We don't have a lot of room (our dining room is our classroom) so we use a table top pocket chart that can easily be stored away when not in use.  Pocket charts are fun for children to use and it builds motor skills in young children just by practicing sliding the cards in and out.  These printables are helpful for children who are beginning to read.
---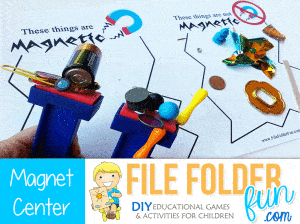 Magnet Learning Center Printables
This is a simple set up game or children to explore magnetic qualities of different items.  Print these sheets and glue them to either side of a file folder.  Provide children with different items and objects from around the house along with a magnet and have them sort the objects accordingly.
---