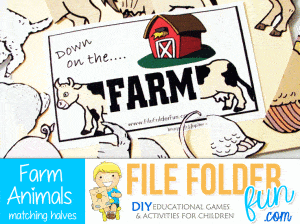 Down on the Farm Animal Match Game
This is an animal matching game that you can play in a variety of ways. The first way is to simply print two sets of each page and have the children match the pictures of the animals. The second way is to print one set of the animals, cut them out and then cut them each in half vertically. Glue the front half to the file folder, and keep the back half for the playing pieces to match.
---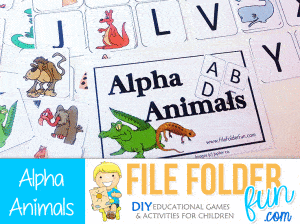 Alpha Animals File Folder Game
Children love animals, and these fun and colorful characters are fun to match up to their "First Letter" For extra fun combine this game with the ASL version above, and have a double matching game for children who need a little challenge.
---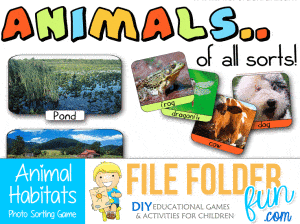 Animal Habitats Photo Sorting Game This is a game for children to sort real photos of animals by their habitats. Habitatis include Ocean, Pond, Forest and Farm with 12 different animals for each habitat.
---
---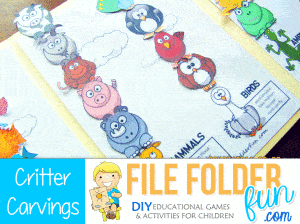 Animal Groups Game This game is called Critter Carvings and it's a fun way for children to learn about animal groups. Children arrange the different animals into totem pole groups by stacking them ontop of eachothers heads. Descriptions of each of the groups (Mammels, Birds etc.) is written below for children to decide where to place each animal.
---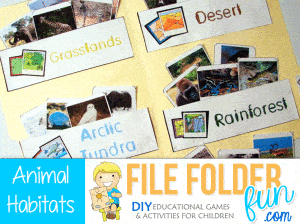 Animal Habitats Game (Level 2)
This is a game for children who are learning about different animal habitats. There are six different animals for each habitat, Grasslands, Rainforest, Desert, Arctic Tundra. Additionally, you can make an memory or concentration game from these as well, or have children write facts about them on the back.
---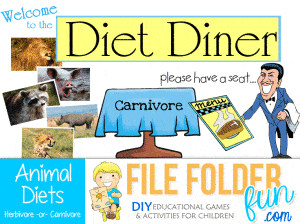 Animal Diets: Carnivore, Omnivore and Herbivore
This is a game where children help the people and animals get to the correct restaurant, the Carnivore, Herbivore or Omnivore Diner. This is a great way to learn about what different animals eat. Answer key included.
---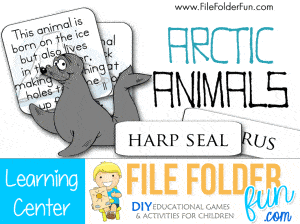 Arctic Animals File Folder Game
This game is a great way for children to learn about animals of the arctic. Children read the clues on the cards, then match them up to the correct animal.
---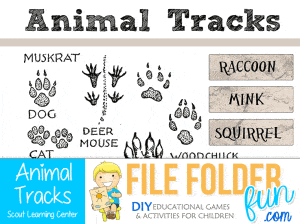 These file folder games are perfect for your little Scouts and they are great for Summer learning! Children can learn about animal tracks and how to tie different knots.
---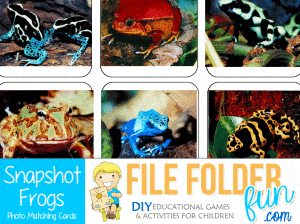 This is a simple learning center for children to visually match the photographs of different frogs. We've chosen a colorful variety for children to explore, and highly recommend laminating these cards for durability but also to achieve a "photo" like sheen.
---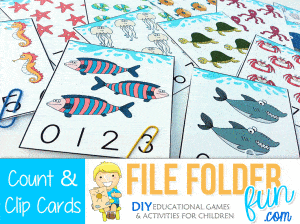 Count and Clip cards are a great way for children to work on counting, number recognition and small motor skills. Children count the number of ocean animals on the cards, find the correct number on the bottom and then clip it with a paperclip or a clothespin. Because of the way the game is played we recommend printing on cardstock and laminating for durability.
---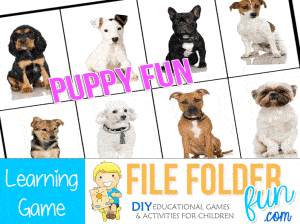 This is a cute puppy
matching game for children working on picture recognition. Print two of each page besides the title page. These cards would make a great go fish, or memory game as well.
---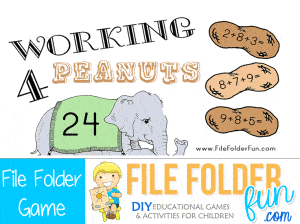 Working For Peanuts: Adding Three Numbers
This is a game for children who are building addition skills. Each peanut features three different numbers for children to add. Many children will required the use of a spare sheet of paper for this game. This is a wonderful opportunity to show children how to look for strategies to solve more difficult problems, such as looking for ways to make 10.
---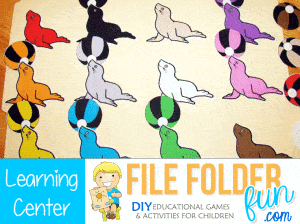 Seal Lion Color Matching
This is a simple game for your tots and preschoolers. Children match the sea lions by color, adding the ball to the tip of the seals nose. You can create a small pocket by leaning the tip of the nose unglued.
---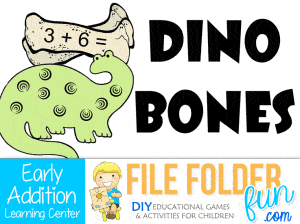 Dino Bones Addition Match Learning Center
This is a printable game for children who are ready to work larger mental math problems up to 10. Each bone has an addition equation and each dinosaur features a corresponding number of spots. Learning these early addition skills takes time and practice and this is a great way to continue to build on those skills.
---