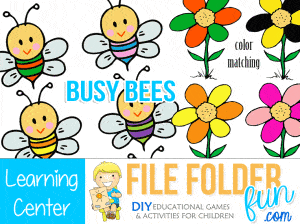 Busy Beautiful Bees Game
This is a simple two color matching game for children who are ready to move past single color matching.  Each flower has two different colors and children need to find the bee with the same colored stripes.  This game is simple but fun for little ones.
---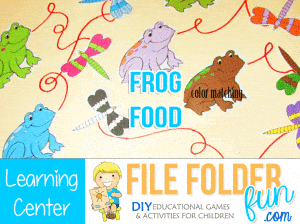 Frog Food Learning Center
Another bi-color matching game for children wot work on visual discrimination skills.  This time children must look carefully at the colors on the frog and feed them the matching dragonfly.  Long tangled froggy tongues add to the fun in this game as children have to pay attention to make sure they are feeding the correct frog.
---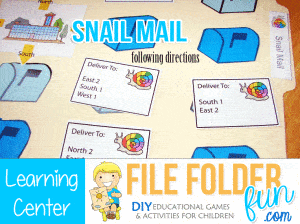 Snail Mail Directional Game
This game provides children an interactive way to learn ordinal directions.  Starting at the post office, children draw a piece of mail and follow the directions to deliver it to the correct mailbox.  The mail will give children the direction and the amount of steps to take in that direction so that every mailbox is full.
---
Find a variety of free butterfly file folder games, life cycle printables, charts, coloring pages and more on Preschool Mom.  There are two different butterfly themed games for children to work on color matching and basic facts about butterflies.
---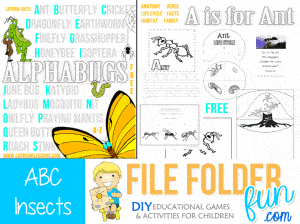 Alphabugs Learning Folders
Over 26 different Buggy Lapbooks to make with your children!  Each letter of the alphabet stands for another creepy crawly creatures and includes Life Cycle Printables, Handwroting Worksheets, Bible Verse, Habitat, Anatomy Chart and Basic Facts.  This set is free on our sister site www.LapbookLessons.com
---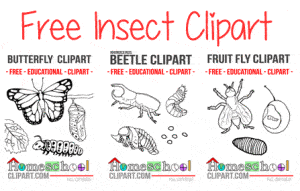 Free Insect Life Cycle Clipart
Find hand drawn black line illustrations for nine different Insect Life Cycles!  This is a great set to use to make your own classroom printables and is available free on HomeschoolClipart.com
---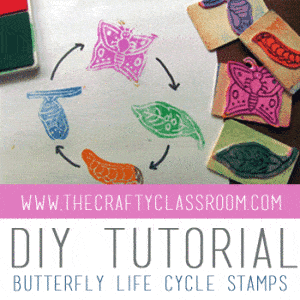 DIY Butterfly Lifecycle Stamps
Want to make a fun center activity for your kiddos?  Check out these easy DIY butterfly lifecycle stamps on our sister site TheCraftyClassroom.com