Okay, I know this sounds a bit silly (especially if you're new to homeschooling) but a reliable pencil sharpener is paramount to the day
running smoothly.  I cannot even begin to tell you the frustrations of "another broken pencil sharpener" when your children are already finding excuses to ignore their worksheets. After many years with a new  pencil sharpener each year I have come to the conclusion that you get what you pay for when it comes to pencil sharpeners. So rather then buy a new one mid-year, I decided to invest in a 
Heavy Duty pencil sharpener
.  I have been using this one ever since and am quite happy!  (3+years so far and not a single problem!  2014)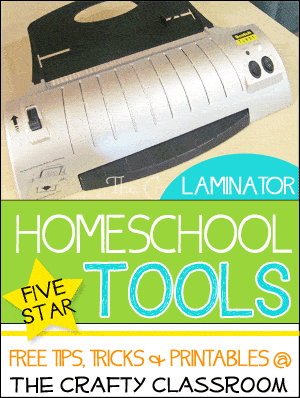 A laminator is a machine that is helpful if you have students in PreK-3rd levels.  Often I found myself printing out some great resources only to find that the paper ripped and teared in the hands of my little ones.  I use my laminator on resources that need a bit more durability to them, such as charts and file folder games. You can see 
photos of how our laminator 
works here
.  We purchase inexpensive laminating sheets from Amazon, one box lasts us about a year.
Laminating sheets are much cheeper when you buy them  online. Additionally, you don't need to pick up name brand sheets, we have used 
Universal laminating sheets
 with great success!
---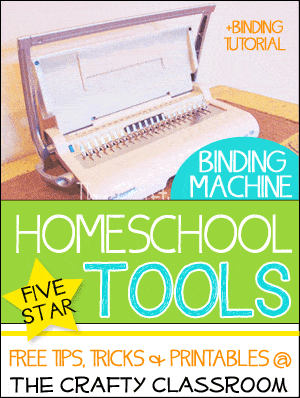 This is one of our newer purchases. After many staplers (even the heavy duty ones) I was frusterated with how our notebooking pages and workbooks fell apart. I finally made the leap and purchased a binding machine. A comb binding machine punches tiny holes down one side of your papers. Then using the side lever you can insert the ringed combs to
bind all your papers together. I took
 photos of the 
way it works 
here. If you use lots of e-books and printed resources this can be quite a handy tool.
---