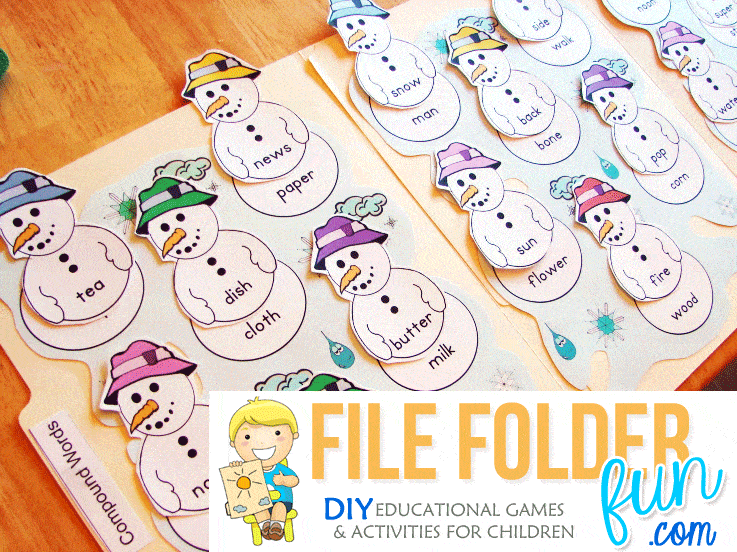 If you've never heard of File Folder Games, this is the spot for you!
A file folder game is basically just what it says…..A game that is played on a file folder.

File Folders are the little cream colored folders that we normally see in offices and filing cabinets. The folders are usually very cheap ($5 for 100 at Walmart) and are the perfect learning tool for children of all ages. Teachers and Homeschoolers use these folders to make up educational games and activities for their children to play, and they place them inside file folders.

Above is an example of a Compound Word File Folder Game.  Half of the snowman is glued to the file folder and the other half is cut out for playing pieces.  Children choose a playing piece and then place it on the correct match so that the two halves make a (real) compound word.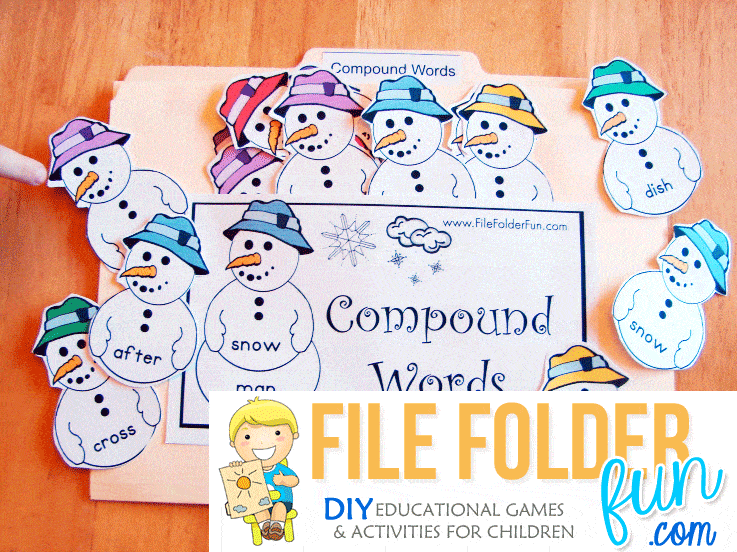 With each game we offer on File Folder Fun we provide you with a title page, label, assembly tips, and game instructions.  We recommend that you glue the tab label onto the file folder tab, and you create a pocket with your title page cover.  If you glue three sides of the title page this will give you a self made pocket to store your playing pieces while not in use. Glue the playing instructions on the back.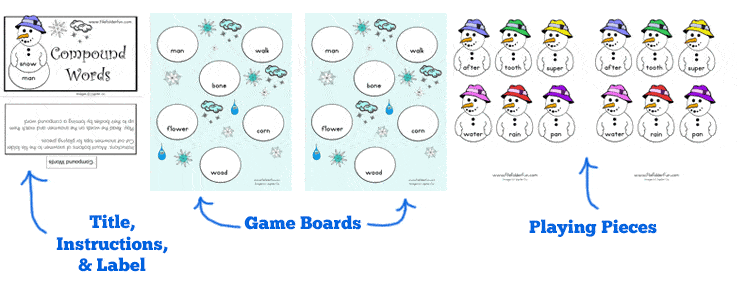 File Folder Games are not only used for Matching games, they can be used for a variety of different subjects and topics that you're child is learning about.  Here is an example of an "Alphabet" game where children place the letters of the alphabet in the correct sequence. 
File Folder Games can also be used for Math and Science, I'll post some examples in a little bit so you can see those too!The main point of the games is to have something Educational and Fun for children to play.  Here are some common uses of File Folder Games:
Take it to Your Seat Activities: 

 In classroom settings, not all children finish their work at the same time.  Having some File Folder Games (FFG's) on hand is a great way to keep children occupied and learning.  This type of use is also helpful for Homeschooling families as well….while Mom or Dad tends to one child, the other can be working independently on a File Folder Game.
Special Needs:

 File Folder Games are a wonderful way to focus on individual goals, by providing games tailored just for your student.  Many homeschooling families and teachers use them with Children with Autism and other Spectrum abilities.
Long Car / Plane Rides:

  Going on a long trip somewhere?  Keep a few of these games on hand and you'll have fun Lap-sized activities to keep your children busy with learning opportunities
Find Free File Folder Games Here

Be sure and Check out our Memory Pockets too, for more fun learning ideas!