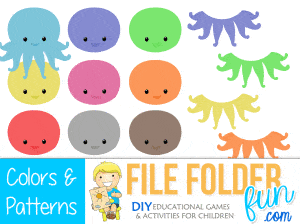 Octopus Colors & Patterns Game
This is probably one of my favorite games, the little Octopi are just too cute.  This game includes patterned octopi as well there are checkerd, dotted, plaid and more for children to build their matching skills.
---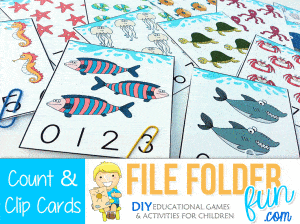 Count and Clip cards are a great way for children to work on counting, number recognition and small motor skills.  Children count the number of ocean animals on the cards, find the correct number on the bottom and then clip it with a paperclip or a clothespin.  Because of the way the game is played we recommend printing on cardstock and laminating for durability.
---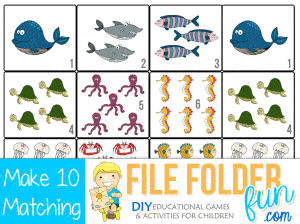 This is a free file folder game for children to begin to learn which numbers go together to make 10.  Learning which numbers add up to 10 provides children with a basic foundation they will use in their mathematical studies for years to come.  It is an important concept and requires repetition and interest to spark learning.
---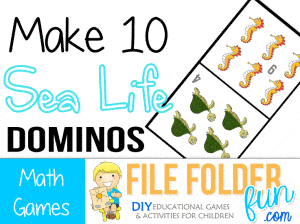 This is a game for children who are beginning to show familiarity with the numbers that make 10.  The game is played similarly to regular dominos, only instead of matching the numbers you can only play if your number and the number on the board make 10 when added together.  This is a quick way for children to learn which numbers go together!
---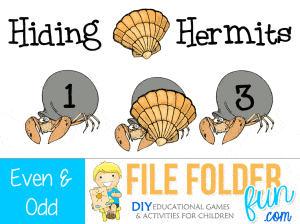 Even & Odd Game (Hiding Hermits)
This game is for children learning the difference between even and odd numbers.  Using shells, children cover up the even numbered hermit crabs.  Start the game again and this time hide the odd hermits.
---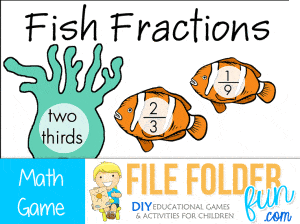 Fish Fractions Game
This is a basic game for children who are just learning how to read
fractions.  The purpose of this game isn't to identify fractions and values, but simply to read the numeric fraction and match it up with it's written form.
---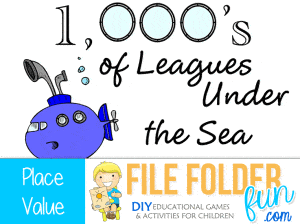 1,000's of Leagues Under the Sea Place Value Game
This is a game for children working on early place value skills. Children work on reading number words in the thousands, and then correctly place the corresponding numerical version of the number in order.
---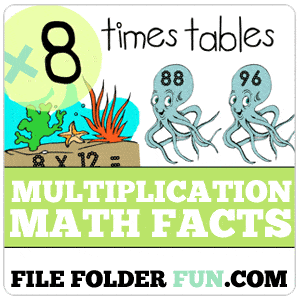 Eight Times Tables
Children learn those dreaded eights with an under the sea Octopus theme game.
---