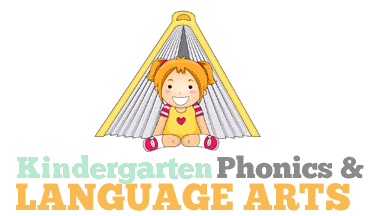 As soon as children have a good understanding of the alphabet it's a great time to start introducing phonics and word families.  Phonics and Word Families are a group of words with the same ending.  For example cat, rat, mat, hat, bat are all part of the "at" word family.  Learning about word families is a key part of learning to read.  Children can pick up on patterns and rhyming sounds very quickly which in turn lends to reading confidence and reading success.  However, not all words can be sounded out.  These words are called Sight Words because children must memorize them by sight.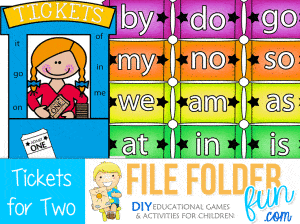 Tickets for Two Reading Game
This game is simple but fun!  Each child is chooses a ticket master game board to start. Children collect tickets by reading the two letter words and then using it in a sentence or writing it down on their paper. This is a great way to reinforce these small words and you can easily tie it into an after class or daily reward.  For example, each ticket could be worth one minute of game time or something exciting.
---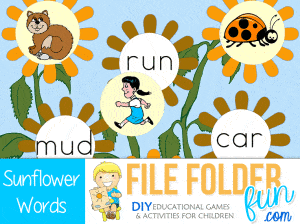 Reading takes practice!  This game is filled with almost 30 different 3 letter words for children to read and find the picture match.  This is an easy assembly game, it's ready to print and play and the circles can be punched out with a 1 inch circle punch.
---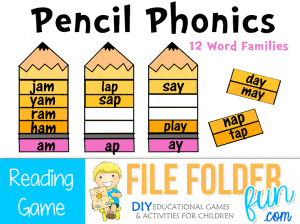 Pencil Phonics Game (Level 1) Featuring 12 different two letter word families this game is a wonderful introduction to reading.  Beginning with one or two different word endings children sound out the words on each strip then find the correct pencil with the matching word ending.
---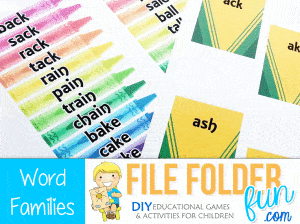 Crayon Phonics Game (Level 2) Featuring 12 different three letter word familieas this game is the perfect follow up for children who have mastered their two letter word famillies.  Children read the word on each crayon and find the matching crayon box.
---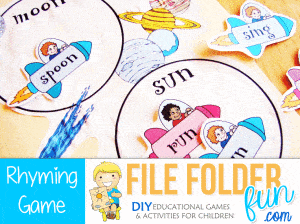 Rhyming Game (Space Theme) This is an outer space themed rhyming game.  Children rhyme words with Moon, Sun, Ring, and Star by placing the correct rocket ships on the matching board.  This game encourages children to really sound out their word endings and look for patterns in the letters.
---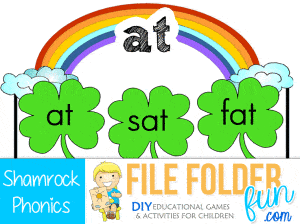 Shamrock Phonics File Folder Game

This is a phonics game for children who are working on  early sight word  recognition. Children read the word on the shamrock and place it in the correct rainbow pocket.  There is lots of room here to decorate your folder in a fun way…think glitter and rainbow stickers!
---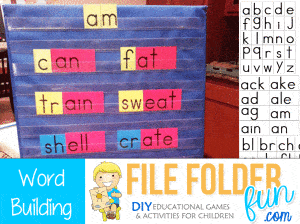 Word Building Pocket Chart Game
Pocket Charts are wonderful teaching tools for your classroom.  We don't have a lot of room (our dining room is our classroom) so we use a table top pocket chart that can easily be stored away when not in use.  Pocket charts are fun for children to use and it builds motor skills in young children just by practicing sliding the cards in and out.  These printables are helpful for children who are beginning to read.
---
Related Resources:
---